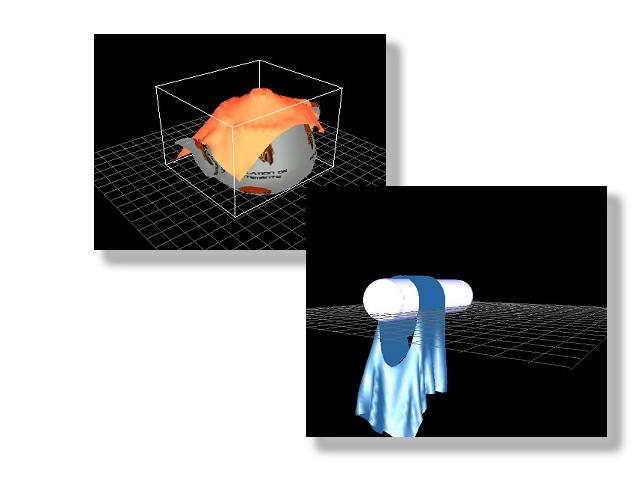 HAPPY NEW YEAR 2004 EVERYBODY
Last update October, 16th from 2002, Thomas Parle
It has been quite a long since the last update, but I am currently moving and moving... no time for any update. I should be able to make some new stuff available at the end of the month. So, stay tuned !
Update August, 12th from 2002, Christophe Tornieri We are in 3rd place on Rate My Screen Shot
Update August, 8th from 2002, Thomas Parle - Revisited all the english of the site, hope there are (almost) no longer any mistake
- Added 5 new videos, sorry without any screenshot yet : go to the Videos section
- Added screenshot for the liquid sphere demo in Demos section
Update August 6 2002, Christophe Tornieri
NEW, go to our forum.
---
Welcome to our website dedicated to real-time cloth simulation. We are glad of presenting you 3-month passionate work. We hope you will like to visit this site and find our work interesting.
You are invited to contact us for further informations. Many videos are available upon request.
In the project section you will find general explanations about cloth simulation. For more details, look at papers in the download section.
Team section presents you CV of team members.
Download section contains videos, papers and soon demos and sources.

Your feedback interests us, please email or post a message in our guestbook below. Thanks.
News:
August 1 2002: Linux version released
---
Post a message for our guestbook ;)Read the guestbook